Pete and Grady
Grady Causey was Signalman on USS LCI9L) 29, Southwest Pacific 1942-1944
This picture was taken on October 26, 2003 after 59 years at the Air Force Museum, Dayton, Ohio.
Click here to visit the Uss Landing Craft Infantry National Association Web site.
Pete with grandson Kyle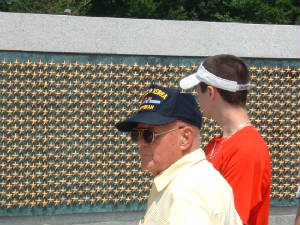 WWII memorial DC. Each star represents 100 soldiers killed in the war.
Click here to visit the National World War II memorial site.
Pete and wife Golden
WWII Memorial DC
Pete and Golden
This was Golden's first-ever visit to Washington, D.C. and Pete's first in about 50 years.